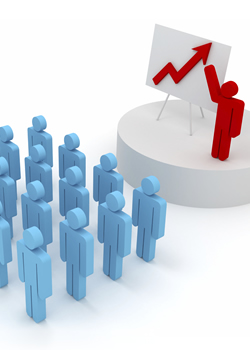 Here's what some of our satisfied clients have to say:
[an error occurred while processing this directive]
Financial Training & Consulting
We believe that a company with financially intelligent managers and staff will have a competitive advantage. Our financial training and consulting offerings are aimed at helping improve decision-making and financial expertise at every level in the company.
In this way, managers can gain not just competence in finance but also a confidence in discussing financial issues in a business context. We have presented our financial acumen courses all over the world and bring a practical, no-nonsense approach to our presentations.
Click on the names of any of the courses below for a course summary.
Structured as a two-day workshop, this course is aimed at equipping non-financial managers with a clear understanding of business finance and how to use it to improve their effectiveness as managers. Topics covered include distinguishing between financial and management accounting, understanding the three main financial statements i.e. the income statement, the balance sheet and the cash flow statement; financial ratios – how to calculate and interpret them, cost behaviour and how to use it to make good business decisions, break-even analysis, budgeting, investment appraisal, managing working capital, cost control.
This two-day training workshop will be practical and hands-on and focused on providing participants with a sound, basic understanding of accounting and finance in a business context. Time will be spent developing the building blocks of business finance and applying the principles involved to the specific operating environment of the client company. The primary goal of the course will be to demystify the world of finance and enable participants to develop both their competence and confidence in business finance when dealing with their customers and also with executives within their own organisations. The workshop will focus specifically on how to use finance when putting together large business transactions and deal with Total Cost of Ownership and other investment decision tools.
Every large deal will need the approval of the buying company's CFO. For sales executives involved in selling large-scale products or solutions (for example major capital projects, large outsourcing deals, major services contracts), a clear understanding of what drives CFO thinking may provide a competitive advantage. This course, which can be structured as a one-day or a two-day event, looks at the role of the CFO, their concerns and challenges, the business case that may be required to win the deal and a knowledge of the 'hurdle rates' and investment appraisal criteria that will need to be met if the deal is to be approved. The course sets out seven success tips for selling to the CFO. Similarly, sales executives will need the skills to influence their own CFO, the second part – and sometimes most challenging part – of the sales process for large deals.

This workshop examines how successful companies do things differently to their less successful competitors, specifically the financial habits that they use to stay ahead. Successful companies create wealth for their shareholders by focusing on such things as gathering as much profit from their most profitable customers and products as possible. They recognise that margin is more important than revenues. And that cash is more important than both! When it comes to cost-cutting, they make sure that they cut cost, not value. They are 'cost agile' and they continually question how they do things. Even though times may be hard, successful companies continue to invest – but they invest carefully, and wisely. Finally, these companies make it their business to make sure that everyone in their organisation with the possibility to impact the bottom line understands the basics of finance. Successful companies do all of these things in good times – and in bad. In that way they can survive in times of difficulty, and thrive in times of plenty. This workshop (one-day or two-day options are available) explores these habits and helps participants to put them into practice in their own organisations.
Structured as a two-day event, this programme is aimed at helping functional managers to develop their overall business skills and acumen. Topics covered include how to use technology to achieve competitive advantage, the role of innovation in your business, how to make good investment decisions, how to understand and use the dynamics of business profitability, how to understand cost behaviour, how to develop win-win collaborative business relationships.
Whichever of the above areas is of interest to you, our commitment is the same - to help you, the client, build management and staff capabilities in your company.
Call us today for an obligation-free initial consultation to see how we might work together to improve your success.
"Extremely interesting and applicable to all managers, would be worth rolling out to others in the business."
"Vincent clearly invested a lot of time preparing for the course and understanding our business….very well structured and presented."
"Very thorough and interesting"
"Thought Vincent was excellent...clearly knows his subject matter and is dynamic and patient."
"Group exercises facilitated learning and interaction...explained technical terms simply."
"I have a much better understanding of financial terms which will help me professionally and personally."
"Took his time to explain and was familiar with our financial reports."
"Very clear, very interesting examples bring the theory to life."
"I am now more confident in managing my cost centre and contributing to financial discussions at management team."